How To Order
Through our approved label supplier, Integrated Business Works!, you can purchase a roll of 500 of these custom 3" x 4" stickers at a low cost of $36.00. This includes free shipping & handling. There is a minimum order of 1000 stickers.
NOTE: When asked for the coupon code, please enter "Shipsurance" to receive free shipping.
Sticker Placement
These stickers should be placed on the INSIDE FLAP of your outbound packages. This way, they will be seen after the package is opened. Do not place these on the outside surface of the container.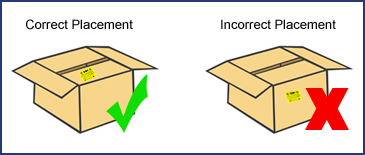 Order Now
(link will open in a new window)