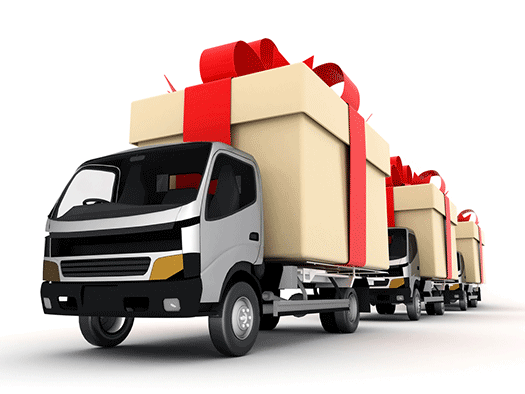 Make sure this holiday shipping season is a joyous occasion by following these shipping tips
Make sure you have the correct supplies.
Stock up on boxes, packing material, tape, and whatever else you might need to handle your holiday shipping volume. Some carriers, such as FedEx, UPS, and the USPS offer free boxes for some of their shipping services, so make sure to stock up before it is too late.


Insure your shipments.
We have been insuring packages for over a decade and the holiday season is the time of year where most shipping losses can occur. Make sure to insure your packages and protect yourself from shipping mishaps. To give you an idea of the shipping volume, in 2019 the USPS targeted 910 million packages during the Holiday season (plus 14.9 BILLION letters)! UPS expected 800 million packages last year, as well! With this type of volume, stuff happens... Let us protect you.


Verify the complete shipping address.
Make sure your shipments are being sent to the correct recipient. Use complete address information, such as Blvd. and St. and make sure to add apartment or suite numbers. Try to use a shipping system with an address verification option.


Add the "Signature Required" service to all packages with a significant value.
The shipping carriers will have their hands full this December with package volume and will be dropping many packages off this year. If you do not request that a package is signed for, THEY WILL deliver them without getting a signature. These packages can then mysteriously disappear. Require a signature on all your high value packages and your recipients will have a much happier holiday.


Double box all fragile or breakable items.
Cushion fragile items inside one box and then put that box into a larger box with 2" to 3" of cushioning around the inner box. Remember, your package WILL be dropped (not on purpose) and fall off platforms as part of the normal transit flow. Make sure it can survive a drop of AT LEAST 6 Feet. Visit a Neighborhood Postal Center for professional packaging and shipping services.


Don't wait until the last minute.
Make sure to mail your packages with plenty of time for delivery. The shipping carriers offer overnight and 2nd day services that can get your packages to their intended destinations rapidly. Be wary of the carrier's holiday shipping deadlines.



Carrier Holiday Shipping Deadlines for the U.S. (Updated 11/15/2022):

FedEx - Holiday Service Schedule

Service
Cutoff Date
Ground
December 14th
Home Delivery
December 14th
Express Saver
December 21st
2Day
December 22nd
Overnight
December 22nd
UPS - Holiday Shipping Schedule

Service
Cutoff Date
Ground
Check ups.com/ctc for details
3 Day Select
December 20th
2nd Day
December 21st
Next Day Air
December 22nd
USPS - Postal Holidays

Service
Cutoff Date
Retail Ground Service
December 15th
First Class Mail
December 17th
Priority Mail
December 19th
Priority Mail Express
December 23rd




Keep receipts or appraisals of all gifts that are sent.
If something does happen to a package while it is being shipped, make sure to have proof of value. If you place receipts in the package make sure to have a copy of them stored elsewhere. This way, if the package is lost, the proof of value is not!
---